Having a setback, feeling discouraged, or just simply having a bad day? This page is dedicated to nothing but positivity. (Last updated 1/23/12)
A positive mind anticipates happiness, joy, health and a successful outcome of every situation and action.
We are what we repeatedly do. Excellence, then, is not an act, but a habit.
The great pleasure in life is doing what people say you cannot do.
Start by doing what's necessary; then do what's possible; and suddenly you are doing the impossible.
Forget mistakes. Forget failure. Forget everything except what you're going to do now and do it. Today is your lucky day.
"Most of the important things in the world have been accomplished by people who have kept on trying when there seemed to be no help at all."
Dale Carnegie
"All great masters are chiefly distinguished by the power of adding a second, a third, and perhaps a fourth step in a continuous line. Many a man has taken the first step. With every additional step you enhance immensely the value of your first."
Ralph Waldo Emerson
"Consider the postage stamp; its usefulness consists in the ability to stick to one thing until it gets there."
Josh Billings
"Some men give up their designs when they have almost reached the goal; While others, on the contrary, obtain a victory by exerting, at the last moment, more vigorous efforts than ever before."
Herodotus
"Nothing in the world can take the place of persistence. Talent will not; nothing is more common than unsuccessful men with talent. Genius will not; unrewarded genius is almost a proverb. Education will not; the world is full of educated derelicts. Persistence and determination alone are omnipotent. The slogan, 'press on' has solved, and always will solve, the problems of the human race."
Calvin Coolidge
"Success seems to be connected with action. Successful men keep moving. They make mistakes, but they don't quit."
Conrad Hilton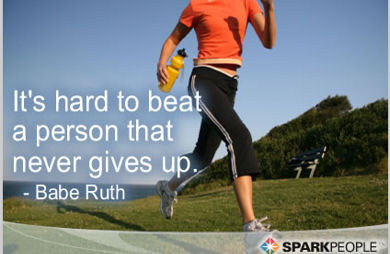 Our greatest weakness lies in giving up. The most certain way to succeed is always to try just one more time.
Thomas A. Edison
The tragedy in life doesn't lie in not reaching your goal. The tragedy lies in having no goal to reach.

Benjamin Mays
Victory belongs to the most persevering.

Napoleon
Belief creates the actual fact.
William James
Believe you can and you're halfway there.
Theodore Roosevelt
Change your thoughts and you change your world.
Norman Vincent Peal

e
Happiness is not something you postpone for the future; it is something you design for the present.
Jim Rohn
It is during our darkest moments that we must focus to see the light.
Aristotle Onassis
Nothing is impossible, the word itself says 'I'm possible'!
Audrey Hepburn
Habit is habit and not to be flung out of the window by any man, but coaxed downstairs a step at a time.-Mark Twain
Instead of giving myself reasons why I can't, I give myself reasons why I can- Anonymous



It's not whether you get knocked down; it's whether you get up.- Vince Lombardi


My advice is to go into something and stay with it until you like it. You can't like it until you obtain expertise in that work. And once you are an expert, it's a pleasure. -Milton Garland


Winston Churchill- Never, never, never, never give up.



Horace- Rule your mind or it will rule you.





George S. Patton- You're never beaten until you admit it.




Lee Iacocca: You've got to say, I think that if I keep working at this and want it badly enough I can have it. It's called perseverance.

The best angle from which to approach any problem is the try-angle. ~Author Unknown

You must have long-range goals to keep you from being frustrated by short-range failures. ~Charles C. Noble
Obstacles are those frightful things you see when you take your eyes off your goal. ~Henry Ford
If you want to make your dreams come true, the first thing you have to do is wake up. ~J.M. Power
Life's problems wouldn't be called "hurdles" if there wasn't a way to get over them. ~Author Unknown
Though no one can go back and make a brand new start, anyone can start from now and make a brand new ending. ~Author Unknown
God gives us dreams a size too big so that we can grow in them. ~Author Unknown
Seventy percent of success in life is showing up. ~Woody Allen
The best angle from which to approach any problem is the try-angle. ~Author Unknown
First say to yourself what you would be;
and then do what you have to do.
Epictetus
Don't judge each day by the harvest you reap, but by the seeds you plant.
Life is 10% of what happens to me and 90% of how I react to it.
John Maxwell
What lies behind us and what lies before us are tiny matters compared to what lies within us.
Ralph Waldo Emerson
We must become the change we want to see.
Mahatma Gandhi
And as we let our own light shine, we unconsciously give other people permission to do the same.
Nelson Mandela
Without hard work, nothing grows but weeds.
Gordon B. Hinckley
There isn't a person anywhere who isn't capable of doing more than he thinks he can.
Henry Ford