This recipe from CampbellsKitchen.com for Stuffed Bell Peppers is just as good as the real thing, only healthier.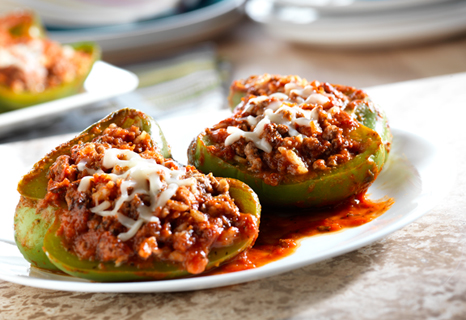 1/2 cup uncooked
quick-cooking brown rice
1 pound extra lean
ground beef
3 cups
Prego® Heart Smart Traditional Italian Sauce
4 ounces shredded fat-free
mozzarella cheese
(about 1 cup)
(Yields 6 servings.)
Directions
Cook the rice without salt or butter according to the package directions.
Cook the beef in a 10-inch skillet over medium-high heat until it's well browned, stirring often to break up the meat. Pour off any fat. Stir 2 cups of the sauce and the rice in the skillet.
Cut each pepper in half lengthwise. Discard the seeds and white membranes. Place the pepper shells in a 17 x 11-inch roasting pan.
Spoon the beef mixture into the pepper shells. Pour the remaining sauce over the filled peppers. Cover the dish.
Bake at 400° F. for 45 minutes or until the peppers are tender. Top with the cheese. Let stand for 5 minutes or until the cheese is melted.
Nutritional Facts Per Serving (2 pepper halves)